Over the years the NBA has gone through some changes in almost every facet of the league. One of those changes is something that both players and fans recognise as a rich part of the NBA's historical tapestry. The Jersey is coveted by both players and fans alike, and has been a constant link to the on-court brilliance and nostalgic value.
11 years ago, it was adidas whom took over the task of developing NBA uniforms after a 90's – 00's era of Champion, Puma, Starter and Nike branded uniforms and apparel. In 2006, adidas lead the charge and after 4 years took a new stance on NBA on-court apparel with it's introduction of their Revolution 30 re-design. One of adidas' biggest changes was the introduction of sleeved jerseys, which was received with criticism from players and fans alike.
This upcoming season Nike will once again re-emerge as the NBA's choice for outfitting the league and it's fans as we slowly get glimpses into several NBA teams refreshed uniforms. The deal with Nike, a reported 8 years, will see a completely new format for teams to follow with specific categorisation of the different versions to be worn:
The Association Edition, the traditional home white uniform that all 30 teams will have in their assortment, links them as members of the most exclusive basketball club in the world. It represents an achievement that most athletes have worked their entire lives to reach.

The Icon Edition, previously known as the road uniform, represents the rich heritage and iconic identity that exists within each franchise. This edition utilizes the team's primary color, a color that dominates the closets of the most diehard fans.

Also this season, eight NBA teams will have a Classic Edition uniform that will be available in the fall. The Classic Edition celebrates some of the most iconic uniforms in league history and can be worn at each team's discretion.
With some teams sticking to their current designs, some making minor changes and others making a complete overhaul – take a look below at each new design that will debut next season:
1. Golden State Warriors
Although this wasn't our first look at the Nike refresh, it was however the first look put out by Nike themselves to help introduce the new uniform system that teams will use next season. Seen above is the Warriors "Association" jersey which means that the Dubs will be one of the few teams sticking to their current designs.
Staying put isn't a bad thing for the Warriors, a franchise that is already established need not change much of anything if they don't have to. The Golden Gate Bridge chestplate is here to stay and honestly should never leave as Golden State stand as the last NBA team to actually have a "design" on their jerseys. Although they've only had their home jerseys revealed, the Warriors will be included as one of eight NBA teams to wear "throwback" inspired uniforms once the Nike era begins.
Grade: A+
---
2. Brooklyn Nets
The Nets were one of the first leaks of the Nike era with what appears to be an away jersey, though screenshots on NBA 2K18 have shown otherwise. The above could be an alternative uniform for Brooklyn, but nothing much else has come out about this one in particular.
It seems that Brooklyn will also be another team staying with their current branding. The black and white is great if your trying to play it safe, but hopefully there are some more exciting designs reserved for the 3rd and 4th options.
Grade: C-
---
3. Sacramento Kings
The Kings were the very first team to give fans a real in-depth look at the new Nike jerseys in full view and being sported by the players themselves. The design hasn't changed much as the team only re-branded recently under adidas.
The Kings new direction for the team definitely will help make these jerseys relevant for the forseeable future, and hopefully they never lose that royal purple look. The only thing that could be a suggestion down the line is the removal of the word "SAC" – again just a thought.
Grade: A-
---
4. Detroit Pistons
At this point the Pistons jerseys still don't do it for me, but they've stayed consistent and done a good job keeping some originality in their threads. The Pistons recently underwent a logo change, which can be seen above, and it could have suggested a new design scheme for the upcoming jersey switch.
Instead the Pistons kept it simple and stayed put, which is fine for some teams in the league, but doesn't anybody in that franchise miss the horsehead/exhaust pipe logo days?
Grade: B+
---
5. Oklahoma City Thunder
Oklahoma City really could have done a re-brand and honestly I don't think it would have been a shock to many fans. Usually when a team goes through a tough loss or shake up they want to give fans a way to quickly forget that it ever happened at all.
The Thunder stayed strong though and after an amazing season from Westbrook so they'll be back in the Thunder blue for for the 2017-2018 season.
Grade: A
---
6. Indiana Pacers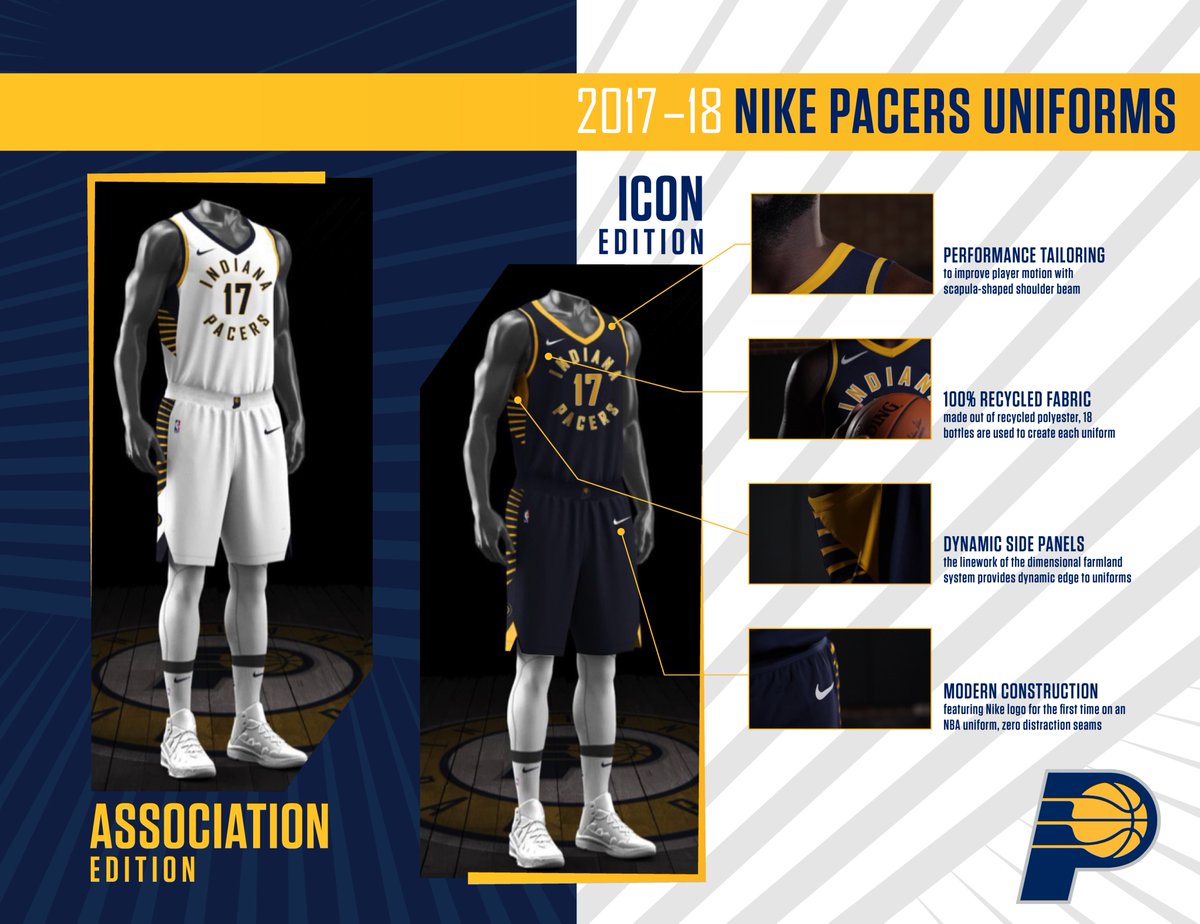 As I previously mentioned, when a franchise goes through a dramatic change usually the next thing in line is the look and feel of the franchise design. The Indiana Pacers are certainly victims of this as proof of their new overhaul as they step into the Nike era.
If we compare the new to the current design and ask have they improved? Short answer, Yes… but only slightly. The stripes are a welcomed addition, however I can't help but feel like the front looks like an ABA design from the 1960's. Perhaps thats what they were going for? Whatever the case, these are better, but can we get the Flo-Jo's back in rotation please!
Grade: B-
---
7. Portland Trailblazers
Portland have entered the very small group of teams that don't need to refresh their uniforms for decades to come. The Trailblazers much like the Bulls, Celtics, Lakers and Knicks only require small changes if any to keep things fresh every now and then.
With these kits the Blazers keep their tradition and franchise culture.
Grade: A-
---
8. Charlotte Hornets
The Hornets will be the only team during this Nike contract to have the silhouette of their owner Michael Jordan. Unless you didn't know already, Jordan Brand is owned by Nike which is why this is allowed by all parties involved.
Charlotte also break ground as the first team to have their "Classic" edition jersey revealed, which should make 90's NBA and Hornets fans very excited. The recently updated jerseys see a return under Nike and I'm a sucker for that bright teal and purple mixture!
Grade: A
---
9. Philadelphia 76ers
The 76ers are entering one of the most significant periods of Sixers franchise history since Iverson was "that guy" 15 years ago. It wasn't long ago that they also went through a refresh a few years back, and while the new uniform's borrow the design almost completely, the newly added drop shadow is a nice change.
The 76ers have always had some interesting uniforms and it's great to see them blend a seemingly old school vibe but with such a modern take. Philly unfortunately won't be apart of the teams wearing "throwbacks" next season, but they should definitely try to sneak it in to their line-up.
Grade: A+
---
10. Chicago Bulls
It's taken the Chicago Bulls reveal for me to finally address the elephant in the room – the "belt-buckle" placed logo on the shorts. As Nike takes over, it seems that every team is now required to have a logo on the waistband of the shorts. While most of them are easy to miss due the way they blend into the uniform the Bulls have chosen the most intrusive and distracting ways to go about this.
I've mentioned it before but why change a classic that has stood the test of time for decades without any real need for change? Perhaps I'm being extremely picky on this one but the striped waistband doesn't support a logo as well as the solid coloured shorts do.
Grade: A
---
11. Washington Wizards
Really not much to explain here, the Wizards uniforms are fine….  for now.
Grade: B+
---
12. Cleveland Cavaliers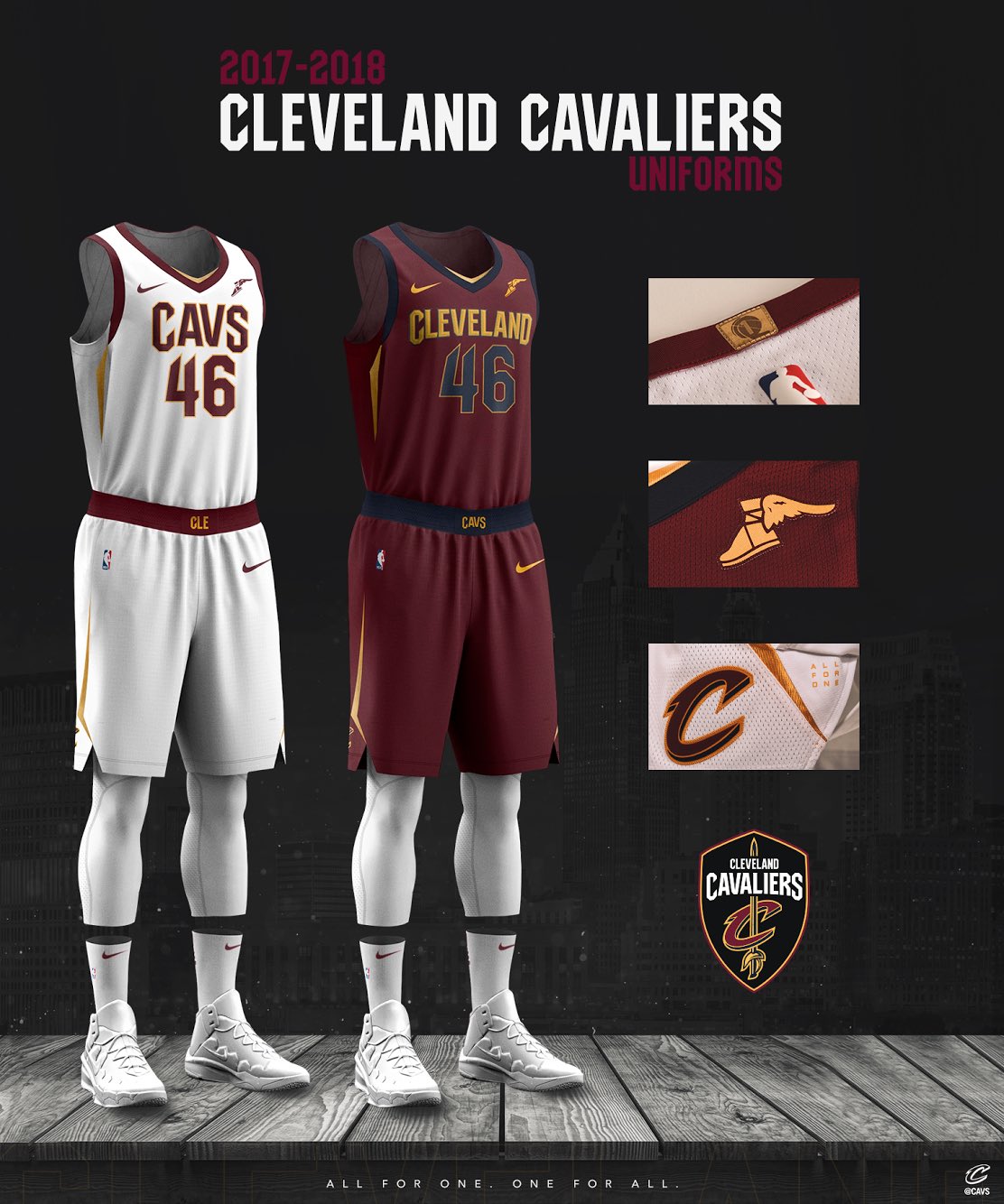 The Cleveland Cavaliers switched it up completely as they look to ditch their previous 6 year design for a new look and honestly I'm not impressed. A huge part of me wishes that the Cavs would admit to the world that their best era of uniforms was 2003-2010. However, logically we have to accept that they may never go back to that as it may remind the fanbase of a darker time in Cavs history.
The new look just doesn't do it for me though. The good news is that its not so bad that it meets a Brooklyn Nets/Indiana Pacers level of yuck. The bad news is that it feels like there was alot left to be desired and probably will until they go back to the White/Wine/Navy staple. The Cavs also have an extended number of throwbacks in their arsenal and it's crazy that they don't try to capitalise on it as they did from 2008-2009.
Grade: B-
13. Denver Nuggets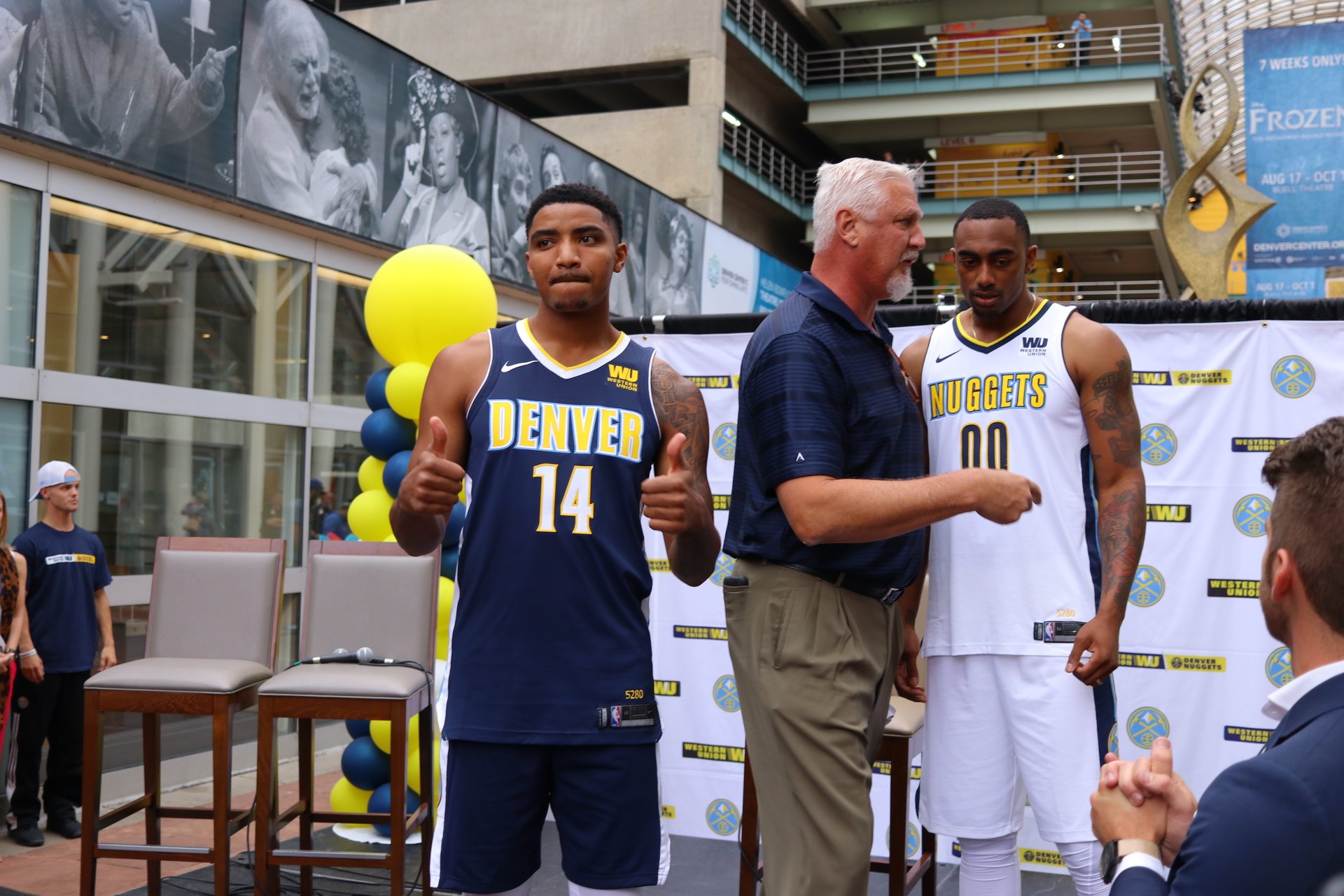 The Nuggets didn't really need to update as their uniforms were original and still refreshing when on court. However the Nuggets have made a bold decision this year to ditch the powder blue that was associated with them for so many years.
Alot of people may not remember the dark navy alternates that was once included in the Nuggets rotation, and may not have noticed the use of navy at all. Denver have once again chosen to bring this back and ultimately replace the powder blue "Away" jerseys.
Grade: A
---
14. Utah Jazz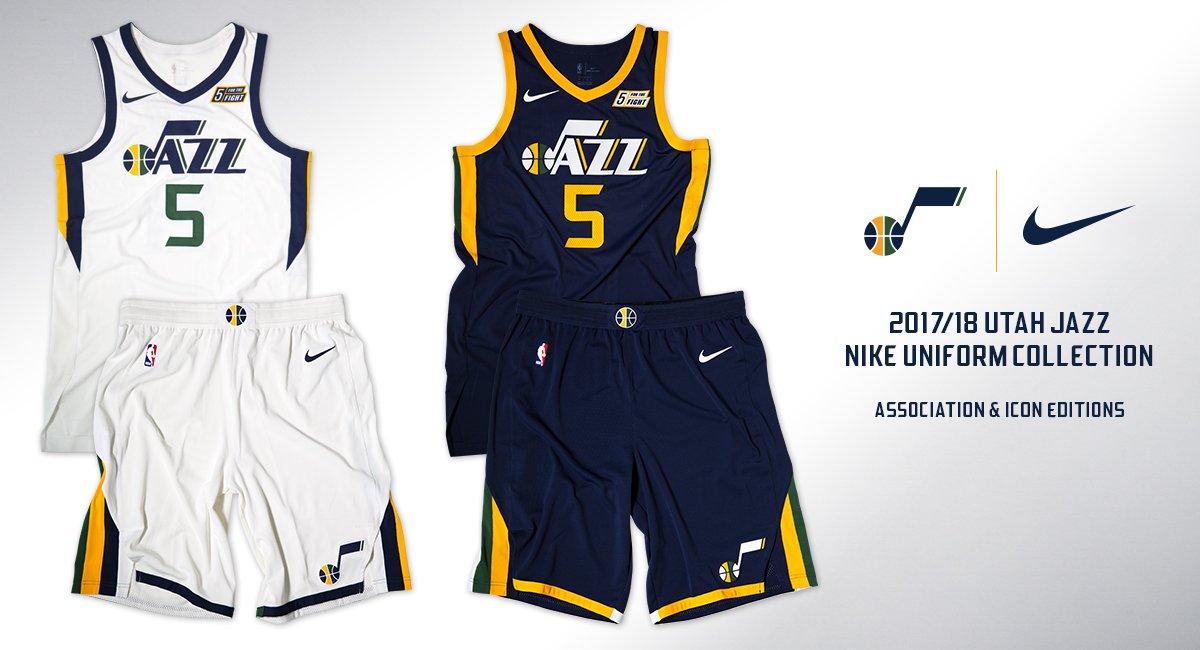 The bias creeps in here with the Utah Jazz who thankfully are proud to showcase the teams name and incorporate it into their overall jersey design. I love the bold wordmark and it's at least a top 5 jersey design in the league right now.
This is a great example of keeping it simple yet keeping things interesting.
Grade: A+
---
15. Minnesota Timberwolves
The T-Wolves gave us a preview of their new logo change months before hinting at a new direction for their on-court look. With that early look the anticipation for which direction they would go only grew when considering there jerseys of years past.
The end result however is so poor that it left room for alot more questioning than there was reasoning for the final product. With all the cards on the table the jerseys don't give any indication or relation to the Timberwolves name or franchise and I can't tell if this is a Washington Wizards G-League team jersey or a T-Wolves summer league jersey.
Grade: C+
---
16. Milwaukee Bucks
The Bucks hit the refresh button back in 2015 and it was welcomed with open arms and thankfully is here to stay. The Bucks have also hit the perfect 2 for 2 on the jersey + advertisement patch combination that will debut this season.
Alot of the other teams this year have either hit on the one or gotten both combinations completely wrong. It's only fitting that one of the most exciting teams in the NBA hit the home run with their on-court style, good going Milwaukee!
Grade: A+
---
17. Houston Rockets
The Rockets made a change!…. well sort of.
Houston have been needing a change for years now as the days of T-Mac and Yao Ming start wearing off in fans minds. This could have been the year for it too with the introduction of an MVP frontrunner in James Harden and newest acquisition Chris Paul.
Unfortunately the Rockets stood firm on their semi-confusing curved line design, but at least they ditched the wide-shoulder curves, going for a more subdued solid collar/shoulder combo.
Grade: B
---
18. Phoenix Suns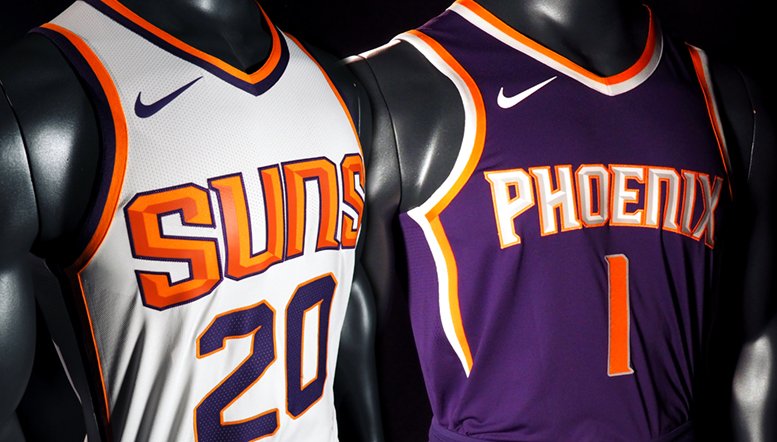 The Suns unveiled their second uniform change in the last 5 years and much like the other teams around the league with great design history, these have strayed far away from it. The Suns have endless possibilities due to their unique colours and logo design and yet they continue to almost hide it in every way.
The previous Uniforms at made a minor attempt to bring back the classic "sunburst" look by merging it into the numbers on the front of the jersey, but that is now gone. Some teams can pull of simplicity and others need to go out loud and proud.
Grade: C+
---
19. Memphis Grizzlies
Grit N' Grind will stay true to their light blue/navy scheme for the forseeable future but with one notable difference. The grizzly bear housed on the neck of the collar is now no longer as it was slowly phased out of teams designs, Memphis was the only remaining team to hang on to it.
The Grizzlies have given a moniker to the new collar design, making references to their "blue collar" narrative and city culture. That sounds good and all, but the jerseys still fail to match the intensity the team plays with and we'd like the Grizzlies teeth-bearing bear back please.
Grade: B+
---
20. New Orleans Pelicans
New Orleans get a pretty bad wrap among fans across the NBA and if it isn't their name then its some other dig at the mascot or something. However, one thing that the Pels have going for them is a pretty solid uniform for what its worth.
After going through a range of changes over the years, New Orleans has done a great job introducing a uniform with some of the most unique font and numbering layout you'll see in the league. Simplicity has worked in this case but unlike Brooklyn, for example, the Pelicans have shown some care and time choosing a unique style fit for their franchise.
Grade: B+
---
21. Los Angeles Clippers
The Clippers re-design a few years ago was anything but great and it screamed "Sorry we had a deadline to meet". The newly revealed Clips uni's are however a step in the right direction even if that step was tiny one.
The seemingly pointless double underline has been stripped away from the CLIPPERS wordmark and the return of the blue uniform is a welcomed sight. The Clips may still need some time to figure this one out but this is definitely a good first attempt from the first rendition.
Grade: C+
---
22. San Antonio Spurs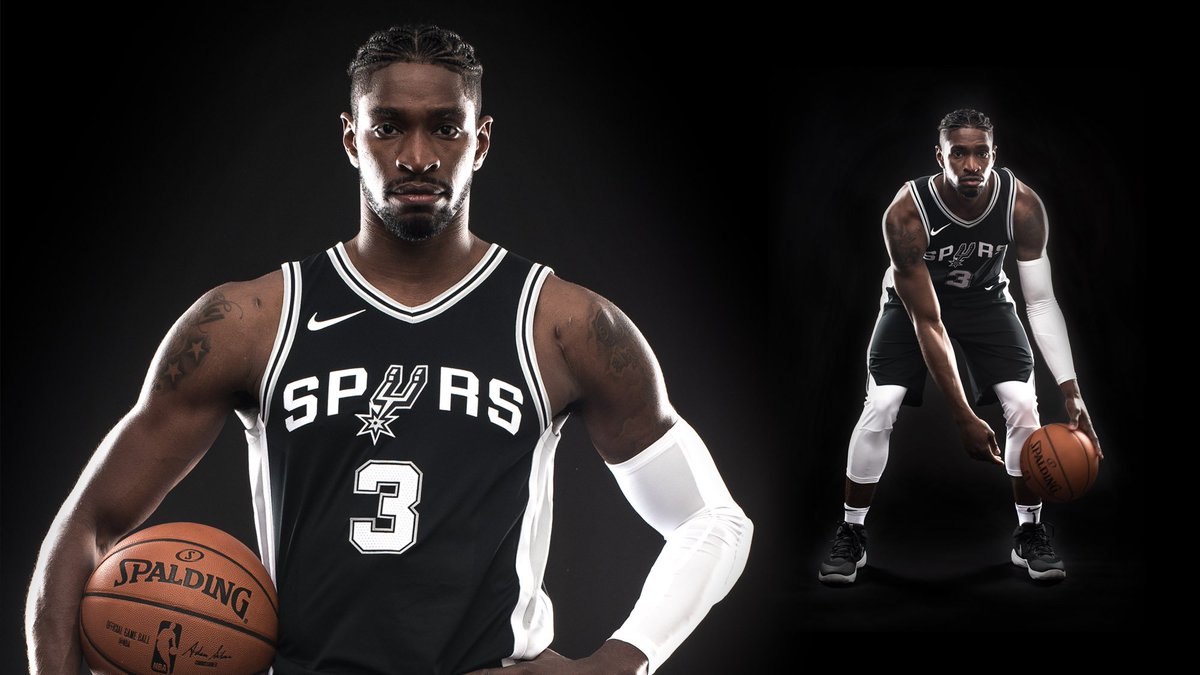 Notice any thing different? The Spurs have been a a franchise of little change for decades now and that's their thing and honestly, it just works. Some mixed feelings have been met with this slight modernisation of the Spurs uniforms, but you've got to trust the Spurs on this one.
Here's my theory on this one: I'm a strong believer in not ruining a classic and we've already seen a large amount of teams do that already. What makes the Spurs so special then? They've managed to blend their staple design for 20 years and throw some modern flavour onto it without removing any essentials. We can group the Utah Jazz and San Antonio as the 2 teams that have nailed the team logo/name mash-up successfully,
Grade: A
---
23. Dallas Mavericks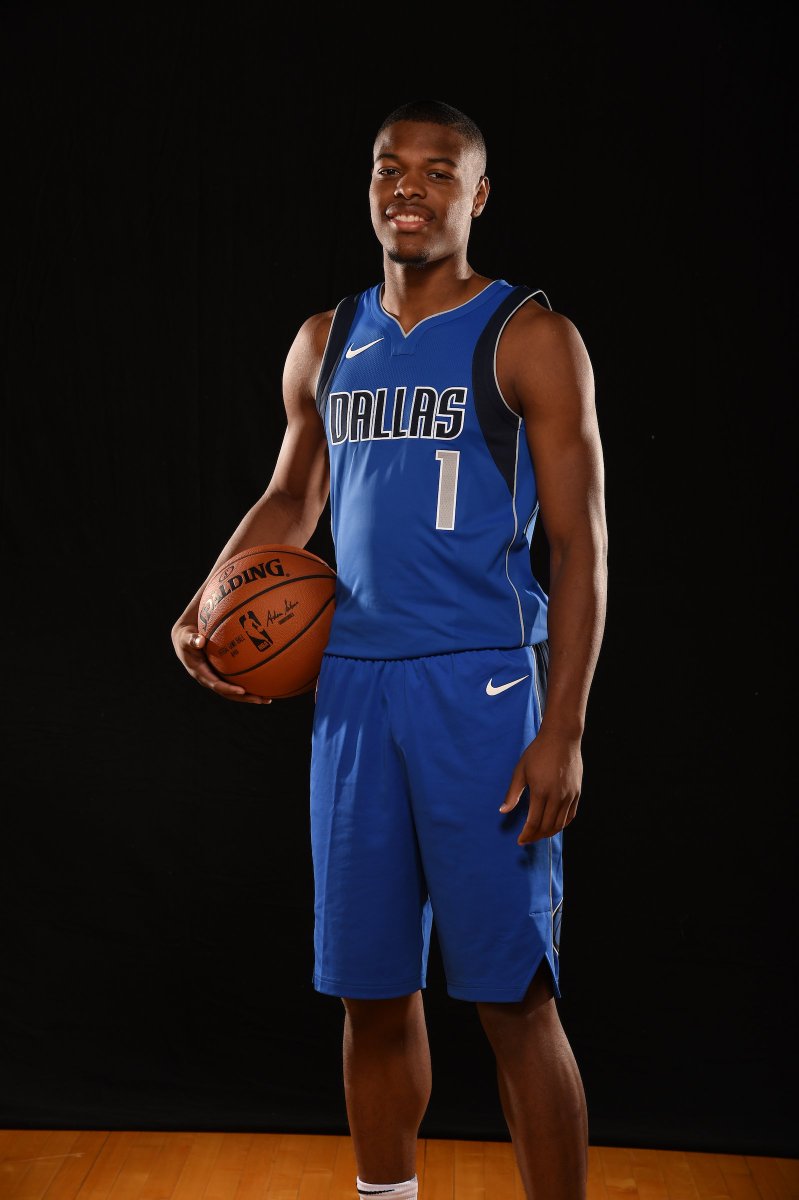 No changes here, but DSJ is going to be a star in Dallas. Do the Mavericks need a change, maybe. Due to the franchise not even being close to 40 years old, their uniform history doesn't have the range that some other teams do.
The Mavs uniforms are solid, who knows though perhaps after Nowitzki exits Dallas may choose to refresh the look and feel.
Grade: B
---
24. Los Angeles Lakers
Classic. Wheres that Big Baller Brand advertisement partnership though?
Grade: A+
25. New York Knicks
Nothing new from the Knicks.
Grade: B
---
26. Boston Celtics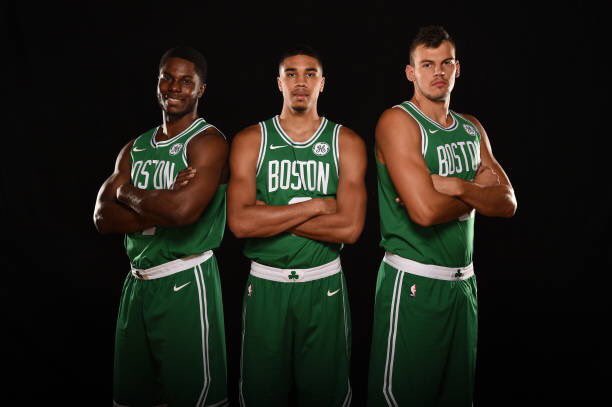 Rounding out the trio of historic franchises, the Celtic green lives on.
Grade: A
---
27. Atlanta Hawks
Have we adjusted to the highlighter yellow yet? Either way the Hawks are keeping the very unique triangle patterned and bright yellow hits for the time being. The Hawks have a very extensive jersey history and have always pushed the bar in terms of creativity.
These are no different and are still so recent and unique as they stand alone as the one of only teams to still be using sublimated graphics in their uniforms (the Orlando Magic use sublimation for their pin-striping).
Grade: A
---
28. Miami Heat
The Heat haven't made any changes either, but some great news regarding their throwbacks is always a good sign. It'd be great to see the heat bring back some of their jerseys that made appearances during the Big 3 era such as the Floridians ABA throwback.
The solid black, alternate red and home white is cool, but long do we await the appearance of a teal & pink or teal & orange rendition.
Grade: B+
---
29. Toronto Raptors
Raptors are sticking to their new threads from their recent re-brand. While I don't mind the Raptors new look, I'm almost certain the days of that bright purple are missed by a certain amount fans.
Grade: B
---
30. Orlando Magic
Orlando have made a slight change to their uniforms as they remove some of the black and white collaring and shoulder area going with a solid blue instead. Not a huge change but if your going to keep the pinstripes, then the throwback edition can only go one way, Shaq and Penny days anybody?
Grade: B-